Traveling with pets or dealing with emergencies that force you to be away from them are the biggest difficulties that modern pet owners face. When their owners are out of town or unable to care for them, pets rely on boarding facilities to keep them safe and happy.
Introduction
This article works as a guide to help you search for the best pet boarding services, discussing the benefits of pet boarding services, types of pet boarding services, the importance of choosing the best facility for your pet, and how to go about doing so.
Increased Demand For Pet Boarding Services
In recent years, pet boarding services have become increasingly popular for many reasons. Pet owners in today's world often find themselves in a bind when it comes to ensuring their pets' well-being due to frequent travel for work, leisure, or family obligations. Pet owners may also need to temporarily board their animals for medical procedures or other unforeseen circumstances. As a result of this demand, numerous pet boarding services with specialized services and accommodations for different types of animals have sprung up.
Benefits Of Pet Boarding Services 
Medical Assistance
The benefits of pet boarding services are beyond what you could have imagined. When you leave your pet at a boarding facility, they receive attention and care that go above and beyond what a friend or neighbor might provide in your absence. Professionals in animal care institutions are versed in animal health, behavior, and care. Whether it's medication management, checking in on a pet with a chronic ailment, or just some company, these caregivers can help.
Trained professionals can swiftly diagnose and treat pets showing signs of discomfort or disease. If your pet has a medical condition, having access to professionals who can intervene quickly and reliably to keep it healthy is crucial and is one of the greatest benefits of pet boarding services.
Social Interaction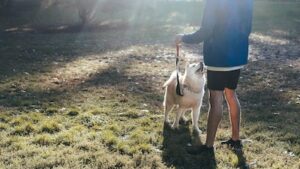 Protecting your pets from feeling isolated is also one of the benefits of pet boarding services. The importance of socialization for pets cannot be overstated. Playtime and socialization with other pets, under supervision, are common features of pet boarding services. This lessens the likelihood of emotional distress caused by separation from their owners, which is especially helpful for dogs.
Pets can burn off surplus energy and get some exercise by participating in structured play sessions. Maintaining their emotional health and providing mental stimulation throughout their stay can be accomplished through socialization with other pets and caregivers.
Customized Services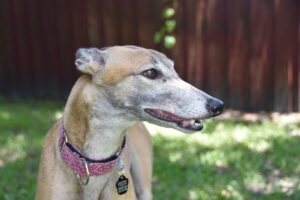 Reputable pet boarding services recognize the wide variety of requirements associated with pets. These establishments are able to meet the particular demands of your pet, be they food limitations, grooming habits, or medical considerations.
Your pet will receive the best possible care at the pet boarding service if you take the time to explain their individual requirements. The consistency of your pet's routine is maintained even when you can't be there to supervise it.
Reliability and Owner Satisfaction
Anxiety and guilt are common reactions for pet owners who must leave their companion animals behind. Worries about your pet's health and safety can be put to rest when you leave it in the care of trained experts. You can keep in touch with your pet while they are staying at a boarding facility because many of them send you updates and images on a regular basis. That is another one of the greatest benefits of pet boarding services.
This calmness of mind is available even in times of crisis. Good kennels have plans in place for dealing with medical crises, and they have ready access to veterinarians. In case of an emergency, while you're away, your pet will still have access to the care it needs.
Disaster Preparation
Emergency situations can be handled best by pet boarding services.  Staff members have received extensive training in recognizing the symptoms of animal discomfort and disease. If your pet develops any health problems while they are there, the staff will know how to handle them right away.
If an accident or illness occurs while your pet is staying at a boarding facility, the staff can quickly get in touch with a veterinarian. Getting your pet the attention it needs in a medical emergency is much more likely to have a positive outcome if you act quickly.
Types Of Pet Boarding Services
Classic Boarding Kennels
Many pet owners still choose to use the tried-and-true option of a conventional boarding kennel. This is one of the most common types of pet boarding services. In these establishments, pets can remain in their own private kennels. Dogs can exercise and mingle in designated outdoor play areas. In order to help cats relax and unwind, it's common practice to provide them with separate, quieter areas.
Essential facilities, including feeding, exercise, and basic grooming, are provided by these kennels. They are a safe and dependable solution for many pet owners, even if they lack the posh features of others.
Luxury Resorts for Pets
Luxury pet resorts are ideal types of pet boarding services for pet owners who want their animals to be in the lap of luxury on their vacation. These establishments provide spacious lodgings, almost like a miniature resort for animals. Common amenities include high-end linens, kid-friendly soft furnishings, and spa and massage services.
Some high-end kennels and hotels for pets even have webcams set up so that owners can keep an eye on their animals from afar whenever they want. Those who have trouble parting with their pets can find comfort and a sense of belonging with this function, which is among the greatest benefits of pet boarding services.
Pets Boarded in Private Homes
When compared to traditional kennels, in-home pet boarding is one of those types of pet boarding services that provides a more familiar setting for the animals in its care. If you choose this option, your pet will stay at the home of a qualified caregiver who will offer them lots of love and attention. Pets that suffer from anxiety in conventional boarding facilities or those who thrive on individualized care may find this environment preferable.
The number of pets that can be boarded in a single home varies widely. This guarantees that each animal is cared for in a comfortable, familiar setting.
Veterinary Boarding Facilities 
This is different than other types of pet boarding services. Pets can be boarded at some veterinary clinics. If your pet has a medical condition that needs constant attention or medicine, this service is ideal for you. Your pet will receive the best possible care in the event of an emergency because they will be in a veterinary facility.
Medical care and special diets can also be provided by veterinary boarding establishments. For pets with ongoing health issues, this level of medical competence might be vital.
House and Pet Sitting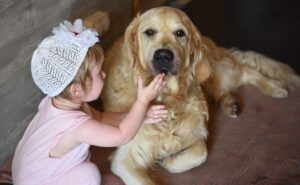 Pet sitting and house sitting services are an alternative to other ideal types of pet boarding services. It is suitable for owners who would rather their pets remain in their own surroundings. A pet sitter or house sitter comes to your home to feed, play with, and otherwise tend to your pets while you're away.
Pets that prefer their own space or who experience anxiety while traveling to new places may greatly benefit from this alternative. The level of social interaction, however, may be lower than in more conventional forms of boarding.
Factors to Consider while Searching Pet Boarding Services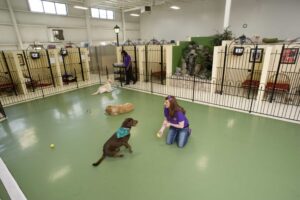 Tidiness and Security
A pet boarding service's safety and cleanliness are two of the most important factors to consider. It's important to keep your pet in a safe, clean, and well-maintained environment. Keep an eye on the state of the play areas, common areas, and enclosures.
A facility that takes animal hygiene seriously shows that it cares for the animals in its care. Cleanliness, waste management, and infection prevention are all hallmarks of a responsible and trustworthy facility.
Skillset Requirements
The staff of pet boarding services is what makes the business tick. It's important to find out about the education and work history of the people who will be caring for your pet. The best care for your pet can be provided by qualified experts in animal care, behavior, and health.
Inquire about the employees' educational backgrounds, credentials, and ongoing training. Caretakers who are well-versed in animal welfare can better meet your pet's requirements and see the warning signs of illness or discomfort.
Rooms, Services, and Extras
When it comes to lodging, various pets have varying requirements. When deciding on pet boarding services, you should think about whether or not the kennels or enclosures are large enough for your pet. Your pet will be much more at ease with proper bedding and resting spaces.
Also, find out whether there are any places to play or places to work out nearby. Physical and mental exercise are great for pets, especially dogs. Your pet's mental and physical requirements will be satisfied with access to these facilities.
Proper Standards of Health and Hygiene
For pet boarding services, cleanliness is of the utmost importance. Find out whether your pet needs vaccinations before staying there. In order to limit the spread of disease, many reputable boarding facilities require all animals to be up-to-date on their vaccinations.
Also, find out how the pet boarding service that you are choosing handles common health problems such as fleas, ticks, and other parasites. A facility's dedication to the health of the animals in its care can be gauged by whether or not it takes preventative steps for the animals' safety and comfort.
Criticism and Citations
This is a major guide in your search for the best pet boarding services. You may learn a lot about the kind of care your pet will receive at pet boarding services by reading reviews and asking for referrals from other pet owners who have used the service. Reviews that include helpful employees, spotless common areas, and happy pets are good markers of a reliable business.
Feedback from other pet owners may be valuable, and online forums and social media are great places to find it. You can also get advice from people you know and trust, such as family and friends, or through local pet groups.
Visit the Facility
Visit pet boarding services in person before making a final decision. During your visit, you can take in the surroundings, see how the staff interacts with the animals, and get a feel for the facility as a whole.
Feel free to speak with a member of staff during your visit if you have any questions or concerns. Observe the behavior of the animals housed there. The facility's animal residents appear to be happy and well-adjusted themselves.
Steps to Searching for the Best Pet Boarding Services
The best pet boarding services can be found through a combination of web research, personal recommendations, and careful screening. If you want to get the best solution for your pet, follow these simple steps!
STEP 1: Do Some Research On The Internet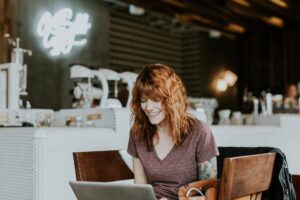 First, try looking for local pet boarding facilities through various search engines and online directories. Use your area plus the terms "pet boarding services," "dog kennels," or "cat boarding" to find a facility that can care for your pet while you're away. You can use this to start making a list of possibilities.
STEP 2: Check Ratings and Reviews 
Look at websites like Yelp, Google Reviews, and Facebook to see what other pet owners have to say about the services you're considering. Look for places that have received mostly favorable feedback and high ratings throughout time. Listen to what people have to say about the facility's cleanliness, the helpfulness of the staff, and the trip as a whole.
STEP 3: Get Involved with Groups that Deal with Pets Near You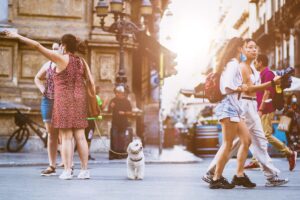 Sign up for local pet-related social media groups or forums. Many people in these groups talk about their own experiences with boarding facilities and other pet services. Talking to other people who also have pets is a great way to pick up tips and tricks.
STEP 4: Seek Recommendations
Talk to other pet owners you know, whether they are friends, relatives, neighbors, or coworkers. Referrals from individuals you know and trust can be a reliable source of information about a service or business.
STEP 5: Check Out Their Websites 
Check out the pet boarding services on your shortlist by visiting their own websites. Websites for most reputable establishments include facts about available services, room rates, amenities, personnel credentials, and contact information.
STEP 6: Visit Pet Boarding Services' Social Media Pages 
You should look at the pet boarding services' social media pages. This might give you an idea of their regular procedures, customer service practices, and any unique sales or events they may be running.
Note: There might be affiliate links mentioned here. We may receive a commission if you purchase a product through an affiliate link. There is no additional charge for you. Please do your own research before making any online purchases.
STEP 7: Plan Your Visits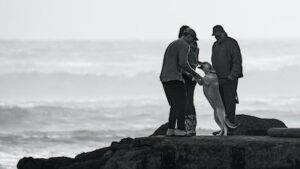 Visit any potential locations that are at the top of your list. In order to make a well-informed choice, it is essential to check out the area in person. While there, inquire about a tour, take note of the facility's upkeep, and evaluate how the staff interacts with the animals.
STEP 8: Ask Detailed Questions
While visiting the facility, make sure to ask plenty of questions about how they handle emergencies, as well as the staff-to-pet ratio, playtime, feeding schedules, and more. Your questions and concerns should be answered to your satisfaction by a recognized facility.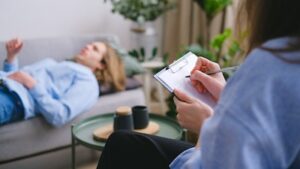 STEP 9: Check License and Insurance
Make sure the pet boarding service you choose has proper licensing and insurance. Because of this, you can rest assured that they follow all applicable laws and safety protocols while offering their services.
STEP 10: Find Out About the Vaccination Requirements 
Find out what kinds of vaccinations your pet needs to enter the facility. In order to limit the spread of disease, many reputable pet boarding services require all animals to be up-to-date on their vaccinations.
STEP 11: Pay Attention to Interactions
While visiting, observe how the staff interacts with the animals. Are they mindful, considerate, and well-informed? Your pet's health and happiness depend on the expertise and compassion of professionals.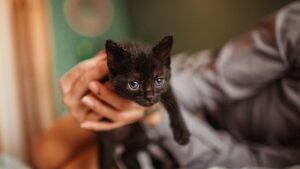 STEP 12: Ask for References 
Inquire about the facility's track record by speaking with other pet owners who have used it. You may learn a lot about the quality of service offered and the satisfaction of prior customers by talking to them personally.
STEP 13: Analyze Location Proximity  
The facility's location is an important consideration. It needs to be convenient for you to go from your house or the place you're leaving from.
STEP 14:  Evaluate Your Selections
Evaluate your selections based on criteria such as cleanliness, personnel credentials, lodgings, amenities, and general vibe once you've seen the facilities and gathered all the relevant information. Pick the one that's both convenient for you and meets the demands of your pet.
STEP 15: Ask for a Trial
Consider scheduling a shorter stay to evaluate how your pet does with the facility and staff before committing to a longer stay. Both you and your pet will feel less anxious after doing this.
FAQs
When would I require pet boarding services, and what are they?
When they are temporarily unable to care for their pets because of travel, emergencies, or other circumstances, many pet owners turn to pet boarding services. These establishments provide a secure and comfortable space for your pet while you're away.
Which pets are the best candidates for pet boarding services?
Dogs, cats, rabbits, birds, and other animals are all welcome at pet boarding facilities. It's important to pick a facility that meets your pet's needs, and some may specialize in treating specific species.
How can I ensure that my pet will be looked after properly while I am away?
Trustworthy pet boarding services hire professionals with extensive experience and knowledge of animal care and behavior. Make sure the facility you choose is up to your standards by checking it out in person, asking about the qualifications of the staff, watching how they interact with the pets, and reading reviews written by other pet owners.
What conveniences and assistance do pet boarding services provide?
The facilities provided by pet boarding services typically include the following: food, exercise, playing, grooming, and occasionally specialty treatments like spa services. There is a wide range of facilities available, from basic kennels to five-star resorts with gourmet food, heated pools, and live webcams for checking in on your dog from across the country.
When boarding my pet, how can I make them feel more comfortable?
Choose a facility that is suitable for your pet's needs and preferences to lessen their stress. Give them comforts from home, such as their own blankets, toys, and even an article of clothing. Some kennels and catteries allow you to bring your pet's usual food.
Is it necessary for pets to interact with other animals while they are boarded?
The correct answer is yes; pet socialization is very important. Playtime with other pets, under supervision, is a common amenity provided by reputable boarding facilities. If your pet is not social, though, you must let the facility know.
When boarding my pet, what steps should I take to ensure their safety and comfort?
Be sure your pet has had all necessary vaccines and parasite preventatives before bringing it in for boarding. Take into account their schedule and any specific needs when packing their meals, medications, and comfort items.
When should I call to schedule a stay for my pet at a boarding facility?
Booking pet boarding in advance is recommended, especially during peak travel times. It is recommended that you book your stay at your desired facility several weeks to months in advance of your trip.
When considering a stay for my pet, may I tour the facility first?
Indeed, that is the case. It is strongly suggested that you check out the facility in person. You can judge the quality of the facilities, the friendliness of the employees, the comfort of the rooms, and the general ambiance in this way. It's also a chance to get your questions answered and your worries allayed.
How can I make sure my pet is safe and healthy while they're staying at a kennel?
Choose a facility with rigorous cleaning and sanitation procedures if you care about your pet's well-being. Get your pet up to date on all necessary vaccines and preventative care. Give specifics on their diet, any drugs they take, and their medical history. Pick a location that has emergency plans in place and is close to veterinary hospitals.
Conclusion
When their owners must be away from home, pets rely heavily on pet boarding services to maintain their health and happiness. These facilities have several advantages for both pets and their owners, including professional care, socialization opportunities, individualized services, and emergency planning. Carefully considering the facility's kind, personnel qualifications, accommodations, and health standards is essential when selecting a pet boarding service.
Pet owners may ensure a stress-free trip for their four-legged friends by reading reviews and other information online before booking. In the knowledge that their pets are receiving the best possible care in their absence, owners may rest easy, whether traveling or dealing with unforeseen circumstances.